Part 3
Sergeant Todd rang the station, he rang to find out
Just where did that truck mean to head for?
It's certain that Leo was in the back with no doubt
He'd been trapped once they'd closed down the door.
One phone call was followed by another quick smart
Their direction to what far location?
Poor Cleo was distraught as they'd never been apart.
Todd had to quickly find out Allied's Operation.
"Now let's see here," he huffed in a flurry to the phone,
"Can you get me the nearest SPCA?"
He could just imagine the panic Leo would be in all alone.
He thought that Leo would be screaming at the doorway.
But we know what's right, don't we know of the truth
Of the matter that Leo was actually in!
He'd been tricked and now cavorted and let down by his Sweet tooth.
You could tell by his face all he could do now was grin,
And roll on the floor taking corners with the truck.
Did he care? Not at all, he was out of it
As far as he was concerned he was already moonstruck
By the lasting effects of his favourite plant the catnip.
They say it lasts but a quarter of an hour,
But there were heaps of plants he could readily indulge in.
Our Leo he was completely under its power,
And nice feelings kept coming up from within.
Never mind the miles and miles he travelled
Away from his town, friends and family.
It was like rocking a baby snuggled up in his cradle.
He had temporarily lost all of his sanity.
But Sergeant Todd and Cleo were not at all aware
Of Leo's state of elation and ecstasy.
The answer phone at Allieds was all up in the air.
To Leo he was in his own world of fantasy.
Eventually the Allied office did call to the truck
That was bearing our Leo the stowaway.
It was just really a matter of ongoing good luck.
There was nothing they could do but to downplay
The discovery that Leo was somewhere on board.
They daren't lift up the door in case he ran away
And the people who loved him couldn't really afford
To lose him.  No there had to be a better way.
Thanks for reading my blog.
Please comment below and share my link.
Click here for your Audio link to this blog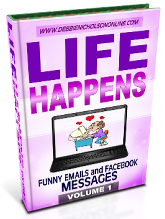 Life Happens Volume 1 A Collection of Funny Emails and Facebook Messages Dating From The 1980s To 2012
Our Favourite Links
Cathy's Well Groomed Site

Debbie's Other Blog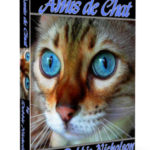 New Product Launch