Part 2
Well, anything to please her, and so I said she could – so she looked forward to the next time – which when you are actually waiting seems to take a long time.
Like watching the kettle boil.
At last the inevitable happened and we had another litter.  This time they were multi-coloured which took a lot of explaining to my youngster at the time.  She chose a fluffy orange coloured kitten and so when it was six weeks old, we welcomed him into our home and she played with and looked after it as best she could.  At that time I was nearing full term with our second child, and so when the new baby arrived, the cat came to be second place in our daughter's life.  There were many years between them so having a new sister naturally took priority over the kitten.
After the baby arrived, it was our habit in those days to soak our nappies in bleached water so that we could proudly have them flapping out in the wind for all the neighbours to see that the baby had arrived and we were looking after it with clean intentions.  Now that I am a grandmother, there are no nappies proudly pegged out on the line as those material cloths don't seem to be what is the preferred method of clothing for this generation, because today the throwaway society wins out in most departments.
I remember one day we went to visit my parents to show off the baby and as usual we locked the kitten up in the laundry – that had always been our usual habit – it was a rather modest room – the back door had a cat flap – not that the kitten was able to use it yet, however, there was plenty of room for his kitty litter and the toilet room was off the laundry and with the laundry machines there was ample opportunity for the kitten to play and run with a lot of room to spare.
After a few hours we returned home, and immediately our daughter ran to let the kitten out.  Only we couldn't find the kitten anywhere.
Thanks for reading my blog.
Please comment below and share my link.
Click here for your Audio link to this blog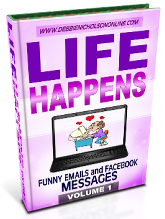 Life Happens Volume 1 A Collection of Funny Emails and Facebook Messages Dating From The 1980s To 2012
Our Favourite Links
Cathy's Well Groomed Site

Debbie's Other Blog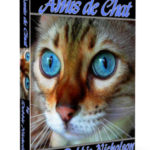 New Product Launch